The Green Zone
Home / Movie Channel / Action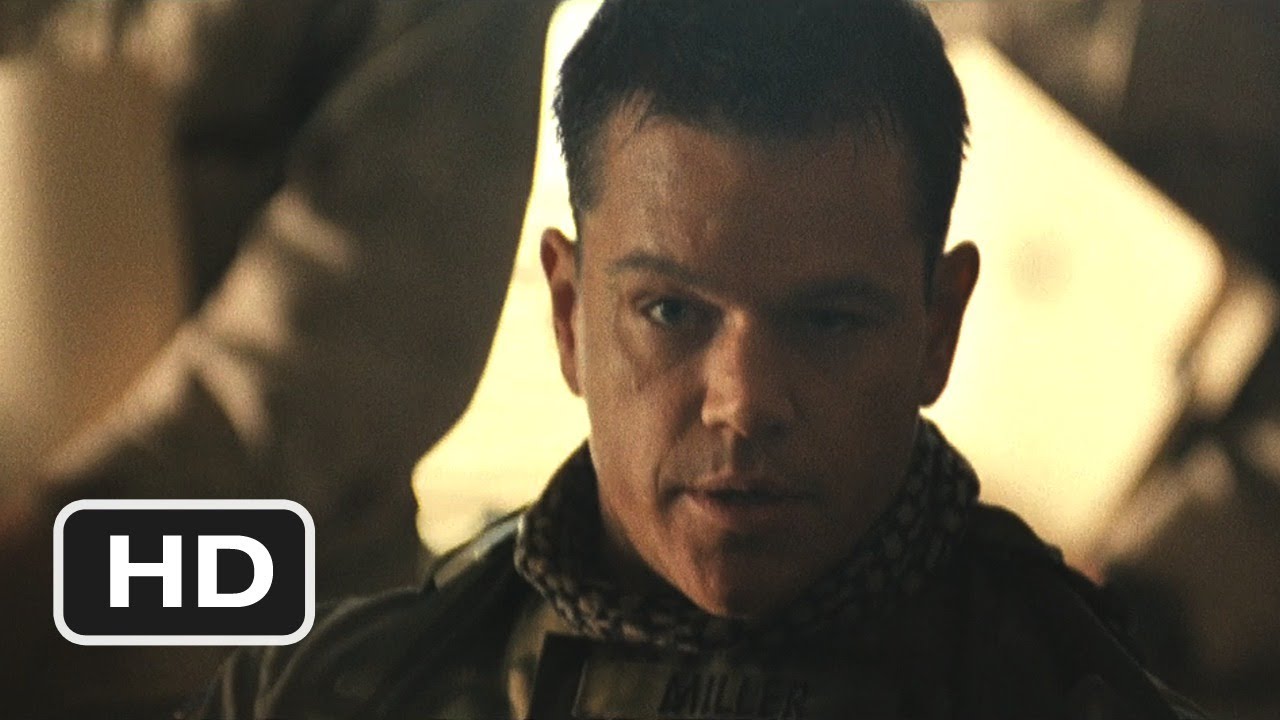 CLIP DESCRIPTION:
Unit leader Roy Miller (Matt Damon) questions the higher-ups in command about the authenticity of the intelligence.
CREDITS:
TM & © Universal (2010)
Cast: Matt Damon
Director: Paul Greengrass
Producers: Alvaro Ron, Liza Chasin, Mairi Bett, Paul Greengrass, Tim Bevan, Kate Solomon, Michael Bronner, Christopher Rouse, Tadeo Villalba hijo, Eric Fellner, Zakaria Alaoui, Jo Burn, Debra Hayward, Lloyd Levin
Screenwriter: Brian Helgeland
FILM DESCRIPTION:
United 93 director Paul Greengrass explores the aftermath of the Iraq invasion in this feature adaptation of author Rajiv Chandrasekaran's literary expose Imperial Life in the Emerald City: Inside Iraq's Green Zone. A onetime Baghdad bureau chief of the Washington Post, Chandrasekaran was present as American forces attempted to set up a provisional government on the grounds surrounding former Iraqi dictator Saddam Hussein's opulent palace. The resulting governing body, according to critics, existed in a bubble so far-removed from the grim realities of the Iraq War that it failed to properly assess the needs of the people. In this fictional thriller set during the U.S.-led occupation of Baghdad, director Greengrass and screenwriter Brian Helgeland use Chandrasekaran's journalistic account as the foundation for the story of an officer who joins forces with a senior CIA officer to unearth evidence of weapons of mass destruction in Iraq.Chief Warrant Officer Roy Miller (Matt Damon) is certain that Hussein has been stockpiling WMDs in the Iraqi desert, but in their race from one empty site to the next, they soon stumble across evidence of an elaborate cover up. As a result, Miller realizes that operatives on both sides of the conflict are attempting to spin the story in their favor. Now, as Miller searches for answers made ever more elusive by covert and faulty intelligence, the truth becomes the most valuable weapon of all. Will those answers prove pivotal in clearing a rogue regime, or escalate the war in a region that grows increasingly unstable with each passing day? Amy Ryan co-stars as the New York Times foreign correspondent who travels to Iraq investigating the U.S. government's allegations about weapons of mass destruction, with Greg Kinnear appearing in the role of an additional CIA officer, and Antoni Corone essaying the role of a colonel. Brendan Gleeson rounds out the main cast for this Universal Pictures production.



---
Got something to say? Join MachoFlix or login to participate in the conversation.