Ex Machina
Home / Movie Channel / Fantasy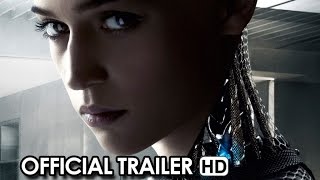 EX MACHINA Official Trailer #1 (2015) for the Sci-Fi Thriller directed by Alex Garland and starring Domhnall Gleeson, Oscar Isaac, Alicia Vikander.

EX_MACHINA is an intense psychological thriller in which Caleb (Domhnall Gleeson), a 24 year old coder at the world's largest internet company, wins a competition to spend a week at a retreat belonging to the company's reclusive CEO, Nathan (Oscar Isaac). But when Caleb arrives he finds that he will have to participate in a fascinating experiment with the world's first true artificial intelligence, housed in the body of a beautiful robot woman, Ava (Alicia Vikander). Truths, emotions and motives are blurred as the relationship between Caleb, Ava and Nathan intensifies.

Release Date: 10 April 2015 (USA)
Directors: Alex Garland
Cast: Domhnall Gleeson, Oscar Isaac, Alicia Vikander
Genre: Drama, Sci-Fi, Thriller
Country: USA, UK
Production Co: DNA Films, Film4
Distributor: Universal Pictures

FilmIsNow your first stop for the latest new cinematic videos the moment they are released. Whether it is the latest studio trailer release, an evocative documentary, clips, TV spots, or other extra videos, the FilmIsNow team is dedicated to providing you with all the best new videos because just like you we are big movie fans.
---
Got something to say? Join MachoFlix or login to participate in the conversation.